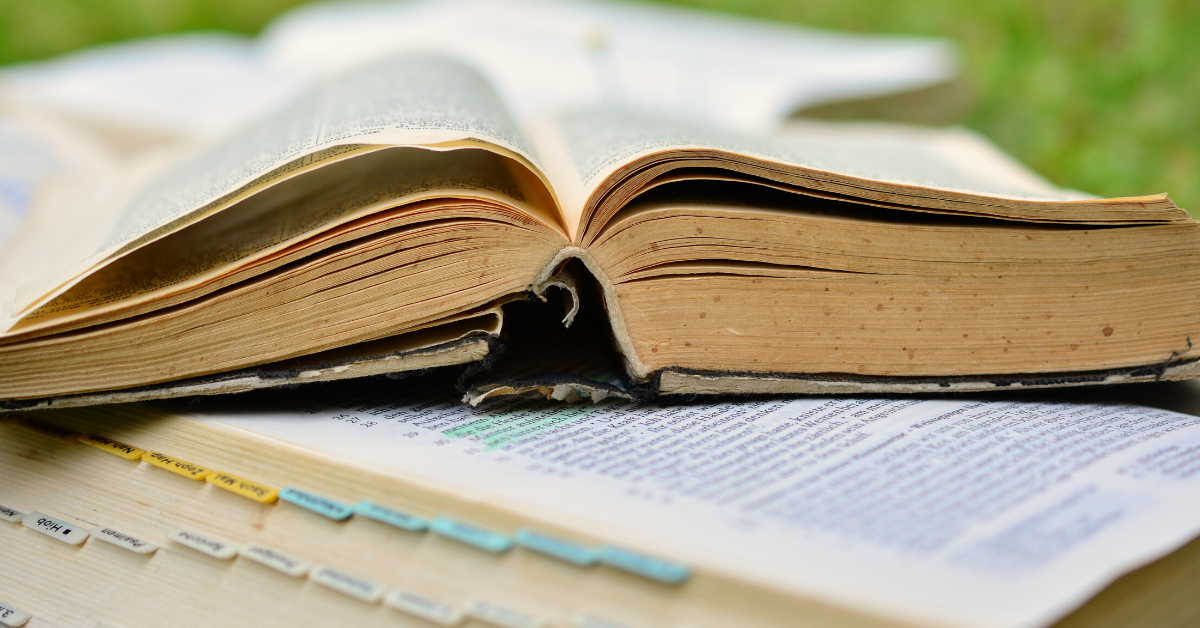 As we kick off 2020, I (Pastor Nick) would like to invite you to read the entire Bible again with me this year. It can be done with 20 minutes a day, and I will be reading from four different places each day. It's my prayer that we can grow in Christ together in 2020. The reading plan starts as follows
For those wondering where the Bible reading plan is coming from, you can find the whole thing HERE.
I encourage everyone to download one and print it off. You can fold it, put it inside the cover of your Bible to have with you. It also gives 4 or 5 catch-up days a month for the times that you miss, or so you can read something else to supplement your spiritual growth.
Visit our Facebook Group 2020 Reading Through the Bible
Week Fourteen
Mar. 30 - (Catch-Up Day)
Mar. 31 - (Catch-Up Day)
April 1 - (Mark 1:1–8 // 1 Cor 1:1–17 // Ps 72 // Josh 1–2)
April 2 - (Mark 1:9–20 // 1 Cor 1:18–31 // Ps 73 // Josh 3–5)
April 3 - (Mark 1:21–34 // 1 Cor 2 // Ps 74 // Josh 6–7)
April 4 - (Mark 1:35–45 // 1 Cor 3 // Ps 75 // Josh 8–9)
April 5 - (Mark 2:1–12 // 1 Cor 4 // Ps 76 // Josh 10–12)
Week Thirteen
Mar. 24 - (Matt 28:1–10 // Rom 15:14–33 // Ps 70 // Deut 32)
Mar. 25 - (Matt 28:11–20 // Rom 16 // Ps 71 // Deut 33–34)
Mar. 26 - (Catch-Up Day)
Mar. 27 - (Catch-Up Day)
Mar. 28 - (Catch-Up Day)
Mar. 29 - (Catch-Up Day)
Mar. 30 - (Catch-Up Day)
Week Twelve
Mar. 17 - (Matt 26:36–56 // Rom 11:1–24 // Ps 64 // Deut 6–8)
Mar. 18 - (Matt 26:57–75 // Rom 11:25–36 // Ps 65 // Deut 9–12)
Mar. 19 - (Matt 27:1–10 // Rom 12:1–8 // Ps 66 // Deut 13–17)
Mar. 20 - (Matt 27:11–26 // Rom 12:9–21 // Ps 67 // Deut 18–21)
Mar. 21 - (Matt 27:27–44 // Rom 13 // Ps 68 // Deut 22–26)
Mar. 22 - (Matt 27:45–56 // Rom 14 // Ps 69:1–18 // Deut 27–28)
Mar. 23 - (Matt 27:57–66 // Rom 15:1–13 // Ps 69:19–36 // Deut 29–31)
Week Eleven
Mar. 10 - (Matt 24:15–35 // Rom 7:1–12 // Ps 57 // Num 23–25)
Mar. 11 - (Matt 24:36–51 // Rom 7:13–25 // Ps 58 // Num 26–27)
Mar. 12 - (Matt 25:1–13 // Rom 8:1–17 // Ps 59 // Num 28–30)
Mar. 13 - (Matt 25:14–30 // Rom 8:18–39 // Ps 60 // Num 31–32)
Mar. 14 - (Matt 25:31–46 // Rom 9:1–18 // Ps 61 // Num 33–36)
Mar. 15 - (Matt 26:1–16 // Rom 9:19–33 // Ps 62 // Deut 1–3)
Mar. 16 - (Matt 26:17–35 // Rom 10 // Ps 63 // Deut 4–5)
Week Ten
Mar. 3 - (Matt 22:1–14 // Rom 2 // Ps 50 // Num 5–6)
Mar. 4 - (Matt 22:15–33 // Rom 3 // Ps 51 // Num 7–8)
Mar. 5 - (Matt 22:34–46 // Rom 4 // Ps 52 // Num 9–11)
Mar. 6 - (Matt 23:1–12 // Rom 5:1–11 // Ps 53 // Num 12–14)
Mar. 7 - (Matt 23:13–24 // Rom 5:12–21 // Ps 54 // Num 15–17)
Mar. 8 - (Matt 23:25–39 // Rom 6:1–14 // Ps 55 // Num 18–20)
Mar. 9 - (Matt 24:1–14 // Rom 6:15–23 // Ps 56 // Num 21–22)
Week Nine
Feb. 24 - (Mt 21:1-11 // Acts 28:1-16 // Ps 46 // Lev. 24-25)
Feb. 25 - (Mt 21:12-22 // Acts 28:17-31 // Ps 47 // Lev. 26-27)
Feb. 26 - (Catch-up Day)
Feb. 27 - (Catch-up Day)
Feb. 28 - (Catch-up Day)
Mar. 1 - (Mt 21:23-32 // Rom 1:1-17 // Ps 48 // Num 1-2)
Mar. 2 - (Mt 21:33-46 // Rom 1:18-32 // Ps 49 // Num 3-4)
Week Eight
Feb. 17 - (Mt. 17:14-27 // Acts 24 // Ps. 39 // Lev. 5-7)
Feb. 18 - (Mt. 18:1-14 // Acts 25:1-12 // Ps. 40 // Lev. 8-10)
Feb. 19 - (Mt. 18:15-35 // Acts 25:13-27 // Ps. 41 // Lev. 11-13)
Feb. 20 - (Mt. 19:1-15 // Acts 26:1-18 // Ps. 42 // Lev. 14-15)
Feb. 21 - (Mt. 19:16-30 // Acts 26:19-32 // Ps. 43 // Lev. 16-17)
Feb. 22 - (Mt. 20:1-16 // Acts 27:1-26 // Ps. 44 // Lev. 18-20)
Feb. 23 - (Mt. 20:17-34 // Acts 27:27-44 // Ps. 45 // Lev. 21)
Week Seven
Feb. 10 - (Matt. 14:1-21 // Acts 20:1-12 // Ps. 33 //Exodus 207-29)
Feb. 11- (Matt. 14:22-36 // Acts 20:13-28 // Ps. 34 // Exodus 30-31)
Feb. 12 - (Matt. 15:1-20 // Acts 21:1-26 // Ps. 35 // Exodus 32-33)
Feb. 13 - (Matt. 15:21-39 // Acts 21:27-40 // Ps. 36 // Exodus 34)
Feb. 14 - (Matt. 16:1-12 // Acts 22 // Ps. 37:1-22 // Exodus 35-37)
Feb. 15 - (Matt. 16:13-28 // Acts 23:1-11 // Ps. 37:23-40 // Exodus 38-40)
Feb. 16 - (Matt. 17:1-13 // Acts 23:12-35 // Ps. 38 // Leviticus 1-4)